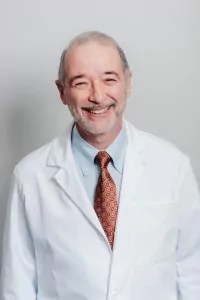 DR. WILLIAM "BILLY" STEWART graduated in 1981 from the prestigious UTHSC in San Antonio at the young age of 24. This dental school in Texas has been regularly ranked as the top dental school in the nation, surpassing many of the older dental institutions in our country. He has been practicing the art of dentistry for over 25 years. His education has been continuous, as he has accumulated over 500 hours of additional dental classes in hands-on courses and lectures.
San Antonio cosmetic dentist Dr. William Stewart is a member in good standing of the American Dental Association, the Texas Dental Association, and the San Antonio District Dental Society, where he has served as the Chairman of the Emergency Call Committee and as a member of the Board of Directors. Dr. Stewart is a member of both the Academy of General Dentistry and the American Orthodontic Society.
He is also a member of the Crown Council, an organization of like-minded quality dentists whose goal is to achieve excellence in patient care and comfort while also giving back to the community. This organization, through its Smiles for Life campaign, has raised more than $20 million to benefit children's organizations such as the Carver Academy and the Juvenile Diabetes Research Foundation.
Our Practice Philosophy
Dr. Stewart and his team begin each day in their San Antonio office by reading their practice philosophy:
"As a team it is our goal to make a positive impact in our patients' lives. We respect each other, our professions, and our positions. Thoroughness, prevention and the ability to create beautiful smiles are the cornerstones of our philosophy. We strive to exceed the expectations of our patients by providing a clean and professional, yet fun and relaxing spa-like environment. We will continue to expand our clinical skills in order to provide the most up-to-date technology and techniques. We give of ourselves because the Lord has blessed us abundantly. We truly strive to improve patients' lives through their smiles."
Excellent Practices and Procedures
The practice encompasses all the specialties of dentistry with a special emphasis on cosmetic dentistry. Cosmetic dentist Dr. Stewart uses the latest in dental technology to enhance the patient experience. Among his cutting-edge cosmetic dental technologies and procedures are digital radiography (minimizing radiation of X-rays), intraoral cameras, in-office professional teeth whitening, porcelain veneers and clear braces.
For those patients with dental apprehension, sedation dentistry is available. Through this practice, anti-anxiety medications are offered to help them relax or sleep during their dental procedures. Patients can also tune in to their favorite movie or digital satellite programming during treatment.
"We are honored and humbled to have been able to treat patients from all walks of life, from across Texas and other states, as well as other countries, including Mexico, Canada, Japan and Paraguay." says Dr. Stewart.
San Antonio cosmetic dentist Dr. Stewart has had the honor to treat professional athletes, music recording artists, sports commentators and the wonderful people who constitute the beautiful city of San Antonio—from those just entering the work force to the seasoned CEOs of major companies. All patients are treated with the same level of excellence and personalized care.
"The ability to take a fearful patient, then design and create his or her beautiful smile while ultimately improving a life has made dentistry an exciting and rewarding profession that I enjoy immensely," Dr. Stewart says.