TMJ Treatment in San Antonio, Texas
TMD stands for temporomandibular disorders, which are problems associated with the temporomandibular joint—or TMJ. The TMJ is the jaw joint on either side of your face that allows you to chew and speak.
The TMJ (temporomandibular joint) is the area where your lower jaw connects to your head. When you move your lower jaw up and down, the TMJ is sliding along a disc to allow that movement to be smooth. Although trauma can cause TMD, in many cases it can start without any injury at all. Other symptoms could come from arthritis that affects the TMJ or problems with the jaw muscle or TMJ disk.
Symptoms of TMD
TMJ disorders or TMJ syndrome can affect more than just your oral health and be caused by many things—making it hard to diagnose. If you are experiencing any one or more of the following symptoms, call Jurich Dental for a consultation today!
Some common symptoms can include: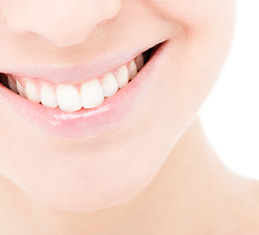 Inability to fully open your jaw.
Jaw feels locked or gets stuck if opened fully.
Pain while chewing or speaking, sometimes extending to areas around your ear, neck or shoulders.
Chronic headaches.
Painful popping or clicking when the jaw is opened wide.
A change in the way your lower and upper teeth fit together.
To ease problems of TMD, a simple TMJ treatment consist of eating soft foods and avoiding large jaw movements such as wide yawns or gum chewing. Applying ice packs or learning relaxation techniques can also alleviate symptoms.

Because symptoms of TMD are similar to other oral problems, if you are experiencing any form of the above-mentioned symptoms or any other problems with your jaw and joints, ask our office in San Antonio, Texas.
Treating TMJ Pain in San Antonio
At Jurich Dental we will provide a thorough exam—carefully considering your situation to address all of your questions and concerns. TMJ treatment is given on a personal basis, depending on your severity and range of options.
If you're in need of immediate relief, ask about our dental laser pain therapy. Our dental office uses the Biolase Epic X dental laser as a therapeutic device to temporarily increase your blood circulation and relax your muscles, allowing for a short term relief of pain.
---
Outstanding is the word I would choose for Dr. William Stewart and staff! I felt welcomed and safe going in and being treated for my TMJ condition! Very knowledgeable and informative. I was visiting from out of state in September and was having TMJ problems. Fortunately, they got me in quickly and addressed the issue so I could continue with my visit in Texas without pain! So thankful and blessed to have been seen by Dr. Stewart and his staff!
Marb B.
---
Take Control of TMD and Headaches in San Antonio Today
As a patient of Jurich Dental you can be assured of a comfortable, friendly environment, high quality treatment, and lasting effects. There's a reason we are an award winning practice. Please don't hesitate to reach out if you are already feeling pain in your jaw, ear, neck, shoulders, or are having headaches.
Call and schedule an appointment with Dr. Jurich or Dr. Stewart today if you are in the San Antonio area, including Shavano Park, Boerne, Helotes, and Leon Springs! Feel free to message us as well with any questions or concerns that you may have.