At Jurich Dental in San Antonio we strive to provide different financial options for you to get the dental care you need at a price you can afford. If you have dental insurance it is important to know what is covered for out of network procedures. We work with most dental plans and assist with filing claims to plans that have out of network benefits. We will help you submit claims to insurance provided when applicable to the care you are receiving.
Dental Financing Options
At Jurich dental we work with several third-party providers that can help you finance any procedures you are looking to have done for your new smile.
Alphaeon Credit
With Alphaeon, you will receive a credit card that can be used as a simple way to pay for procedures and treatments at Jurich Dental. With Alphaeon you'll find a wide array of monthly payment options to help your reach your individual goals.



Lending Club
Through Lending Club you can apply for a personal loan to help finance any dental work you need that can be paid for installments. A personal loan allows you to borrow money from a lender for almost any purpose, typically with a fixed term, a fixed interest rate, and a regular monthly payment schedule. Collateral is usually not required and personal loans typically have lower interest rates than most credit cards.



CareCredit
Whether you use your CareCredit services to pay for deductibles, or for dental treatments and procedures not covered by insurance, CareCredit helps make the health, wellness and beauty treatments and procedures you want possible today.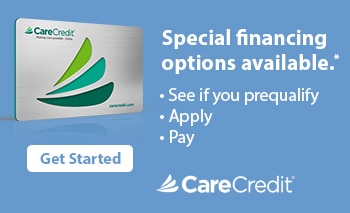 Discounted Dental Care
At Jurich Dental we offer a 3% discount for patients that choose to pay everything up front (does not include payments with American Express or 3rd party financing). The 3% discount does not apply to some procedures, including: cleanings, teeth whitening and laser dentistry procedures. Some exclusions and limitations may apply.
Cancellation Policy
We know your time is valuable therefore Dr. Jurich and his team are committed to seeing you at your scheduled appointment time. These appointments are reserved for you. There is a minimum 48- business hour notice for No Show and or changes to scheduled appointments. For example, If your appointment is on a Monday, the Thursday before is the last day with-in the 48-hr time. This allows other patients who need to be seen the opportunity to take that time. Also, our answering service does not know our schedule therefore they will not take a message concerning a cancellation or changes to the schedule. If you do need to make a change let them know you need to speak to the front office, and we will
call you when we return to the office.
Your hygienist will schedule you 3-6 months in advance for your cleaning while you are in her chair. we make every effort to remind you of your upcoming appointment through our automatic messaging system via text or emails. You will first receive a "save the date" reminder three weeks prior to your visit, and another reminder 3 days prior to your scheduled appointment. If you are sick or have an emergency that interferes with your appointment, then please let us know so you do not get charged.