Laser dentistry has replaced certain older techniques, offering better precision and less pain. Great results are achieved by a focused, intense beam of light from a specialized dental laser, which we use to clean and whiten teeth and gums, treat cold sores, and correct problems like tongue-tie.
Dental Laser Treatment
Dental lasers offer a more efficient way to perform many of the standard dental treatments our patients may need. Some advantages to using dental lasers include:
Reduced pain, so procedures require less or no anesthesia.
Reduced need for stitches.
Preservation of more of your natural tooth.
Lowered risk of infection.
Faster healing after treatment.
At Jurich Dental, we use Biolase Epic X soft tissue lasers. This reliable, high-quality dental laser is a standard in the industry. They can be used to relieve minor dental or jaw pain, perform fast surgery, whiten teeth, and improve oral hygiene.
San Antonio Laser Dentistry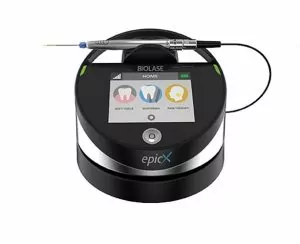 Here are a few of the most popular procedures we offer, made simpler with a Biolase Epic X laser:
Periodontal Laser Treatment: Periodontal disease is a serious problem in the soft tissue and bone that support teeth. With periodontal laser treatment, we are able to precisely remove infection without unnecessary damage and to stimulate the growth of new, healthy tissue.
Laser Frenectomy: A small fold of tissue (a frenum) under the tongue or attached to the upper lip can sometimes restrict the movements of the tongue or lip too much. This can lead to problems with eating and speaking, dental decay, digestive issues, and more. A laser frenectomy releases the tongue or lip in only a few minutes with almost no pain and no stitches! Some babies even sleep through it.
Aphthous Ulcer and Cold Sore Treatment: Recurring ulcers and cold sores in and around the mouth are painful. We can use a Biolase Epic X laser to complete an aphthous ulcer treatment in a single visit. The laser is set on a low intensity and causes no pain. After the treatment, you can expect healing within just a few days. This treatment is designed to drastically reduce and even eliminate the reoccurrence of cold sores or mouth ulcers!
Schedule Laser Dentistry in San Antonio
Here at Jurich Dental, we're excited to share the speed, convenience, and lower stress of laser dentistry, which causes almost no discomfort! Dr. Jurich and Dr. Stewart are both skilled with laser dentistry and have been certified by the Academy of Laser Dentistry to perform a variety of laser dentistry procedures.
For questions about or to schedule an appointment for our periodontal laser treatment, aphthous ulcer treatment, or laser frenectomies please call, text, or contact us using the form on this page. We look forward to helping you! Take a look at our dental financing options for laser dentistry.
You May Also Be Interested In