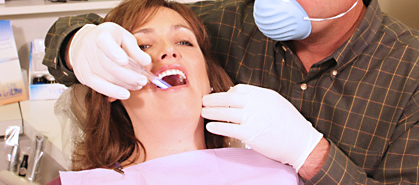 In the past, an oral cancer screening involved optical inspection of the mouth tissue for irregularities that could be oral cancer. However, in many cases mere visual inspection alone is not enough to prevent the problem. This is because by the time the cancer has developed to the point it can be seen with the naked eye, it is often too late to treat it.
Here at Jurich Dental, we perform thorough oral cancer screenings with great dental technology so we can catch any problems as soon as possible!
San Antonio Oral Cancer Screening
Modern dental technology and oral cancer screening methodology have advanced immensely. Now, using modern methods oral cancer can be detected earlier. This means your treatment can begin faster, helping you to recover quicker and more effectively.
Oral Cancer Prevention
Oral cancer—also known as mouth cancer—poses its biggest threat if it remains undetected. Early detection means less invasive mouth cancer treatment, and much higher chances of positive outcomes. Because of this, our team provides oral cancer screening for our patients, so they can ensure positive outcomes and prevention of mouth cancer progression.
Oral cancer continues to be a threat to the lives and livelihoods of people across the globe. In America alone, it is estimated that as many as 30,000 people every year are diagnosed with this terrible disease, resulting in potentially costly treatments, risks to your health—and if the disease progresses too far, even death.
Oral Cancer Symptoms
The following symptoms do not necessarily mean you have oral cancer; however, if you have some of these symptoms for an extended amount of time, you may want to consider having an oral cancer screening:
Pain or discomfort in your jaw or tongue.
Continued sore throat without other additional flu-like symptoms.
Patches that appear red or white around the inside of your mouth.
Teeth that have become loose without other apparent reasons.
Severe difficulty to chew or swallow food.
Constant feeling of something being caught in the throat.
Sores in the mouth that are not healing normally, or are healing very slowly.
Skin or lining inside the mouth that feels like it is getting thicker.
Detect Oral Cancer Early
We are skilled at providing effective oral cancer screenings, and we will do our very best to help you get the care that you need! We are committed to helping patients stop this disease in its tracks, and help keep your oral health in prime condition.
Have more questions about oral cancer, or would you like to schedule an oral cancer screening? Contact our team today!
You May Also Be Interested In